The Exit Planning 2.0 Manifesto
Traditional exit planning is failing. It's failing you. It's failing your clients. It's failing because it doesn't solve the central problem business owner faces—the value gap. 
This eBook explores how advisors can become value creators, and how to use the Exit Planning 2.0 Methodology to transform their practice, grow their client roster, and meet the future of financial advising head-on.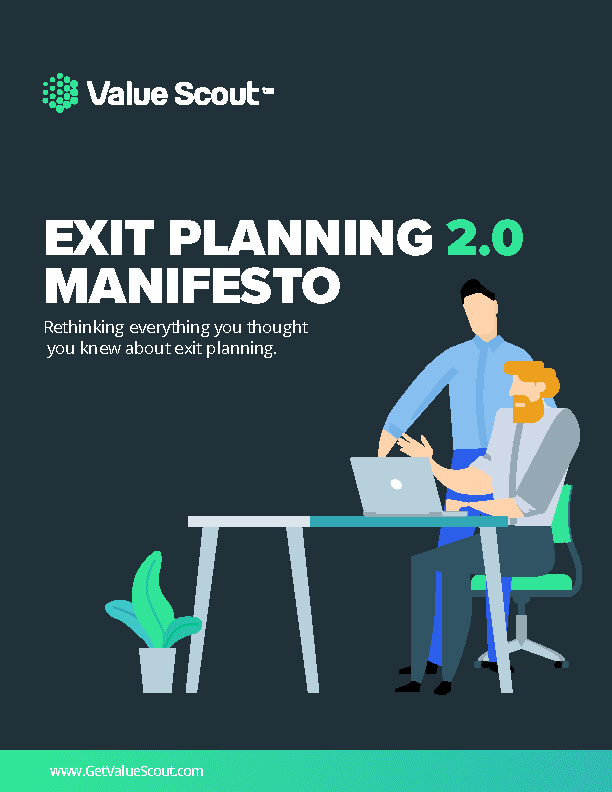 Rethink everything you thought you knew about exit planning.
Unlock the Future of Exit Planning
We all know the statistics surrounding entrepreneurs and ownership transition. But, it's time we also accept our responsibility, as advisors, in enabling them to buck those trends and successfully navigate this critical moment.
Explore the reasons behind why traditional exit planning is falling short, including how to get around these roadblocks.
8 Proclamations of the Value Advisor
Forget about planning exits; partner on value creation. Drill down on the 8 central tenets of the modern value advisor.
Learn about Exit Planning 2.0
Explore the future of exit planning, including the framework, toolset, and community behind the movement.
Leverage Value Scout to drive your exit planning work. Our program is the world's first AI-assisted value creation platform, built for advisors and their clients.
Build an Exit Planning Practice that Focuses on Value Creation
Looking to add value creation services to your repertoire? There is a lot of information out there, and frankly, a lot of it is outdated and uninspired. Enter Exit Planning 2.0. Value Scout was created as a response to the industry's shortcomings, and we're here to revolutionize Exit Planning, one advisor at a time.
This eBook encompasses our indelible beliefs. This is how we add depth and meaning to our clients and their companies. This is what we think it takes to be a trusted advisor to entrepreneurs.