Charting a Post-COVID Path to Business Growth
The impact of COVID-19 on middle-market companies is multi-faceted and can be difficult to grasp, so we conducted a survey of middle-market leaders to get a clear picture.
This eBook charts a path forward for both entrepreneurs and their advisors in this new business landscape.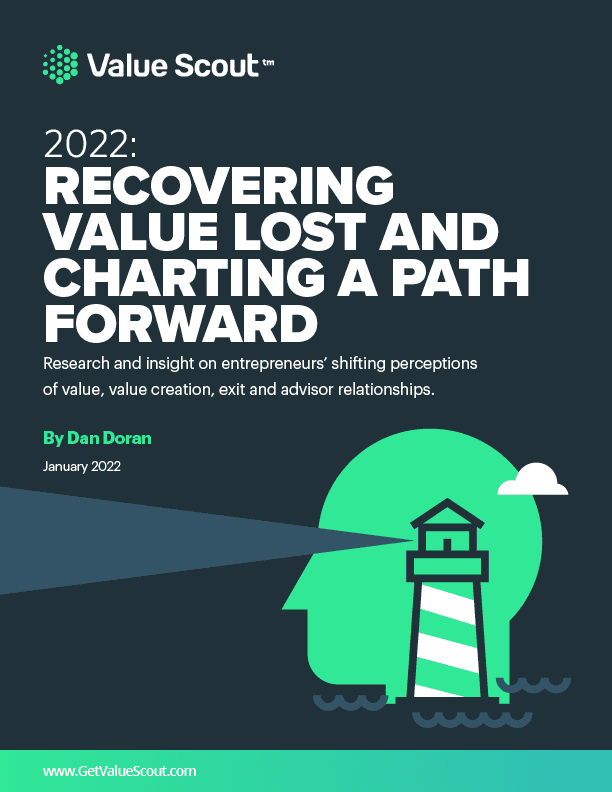 Learn how to move forward and recover lost value in the post-COVID Middle-Market business landscape
For better or worse, the pandemic has changed the advisor/client relationship. Entrepreneurs see advisors playing a pivotal role in value creation going forward, but only if they step up their game and be the advisors that clients need them to be.
Lost Revenue of the COVID Years
2020 was a value-destroying event many middle-market companies. Maintaining the bottom line became the norm. What does that mean for future growth?
Business owners are torn between selling now and holding on. Value loss pushes them to delay, but tax changes may push them to sell now, resulting in a unique situation for owners and their advisors.
Advisors & Value Protection
Many owners began new advisor relationships in 2020 and were nearly twice as likely to see positive value creation, as opposed to companies with older or no advising relationships.
A new business landscape means adapting and re-evaluating. It also means focusing on value creation to grow and thrive—not just recovering your losses.
Charting Your Path as an Advisor in the Post-COVID world
Now, more than ever, clients are challenging their advisors to truly understand their businesses. They want their advisors to get into the details and understand how they make money, how they perceive risk, and what their value creation strategies are going forward.
Business owners expect their value advisors to provide actionable advice to survive what remains of the pandemic, to guide them through the recovery, and to help them build resiliency to prepare for other destructive events in the future.